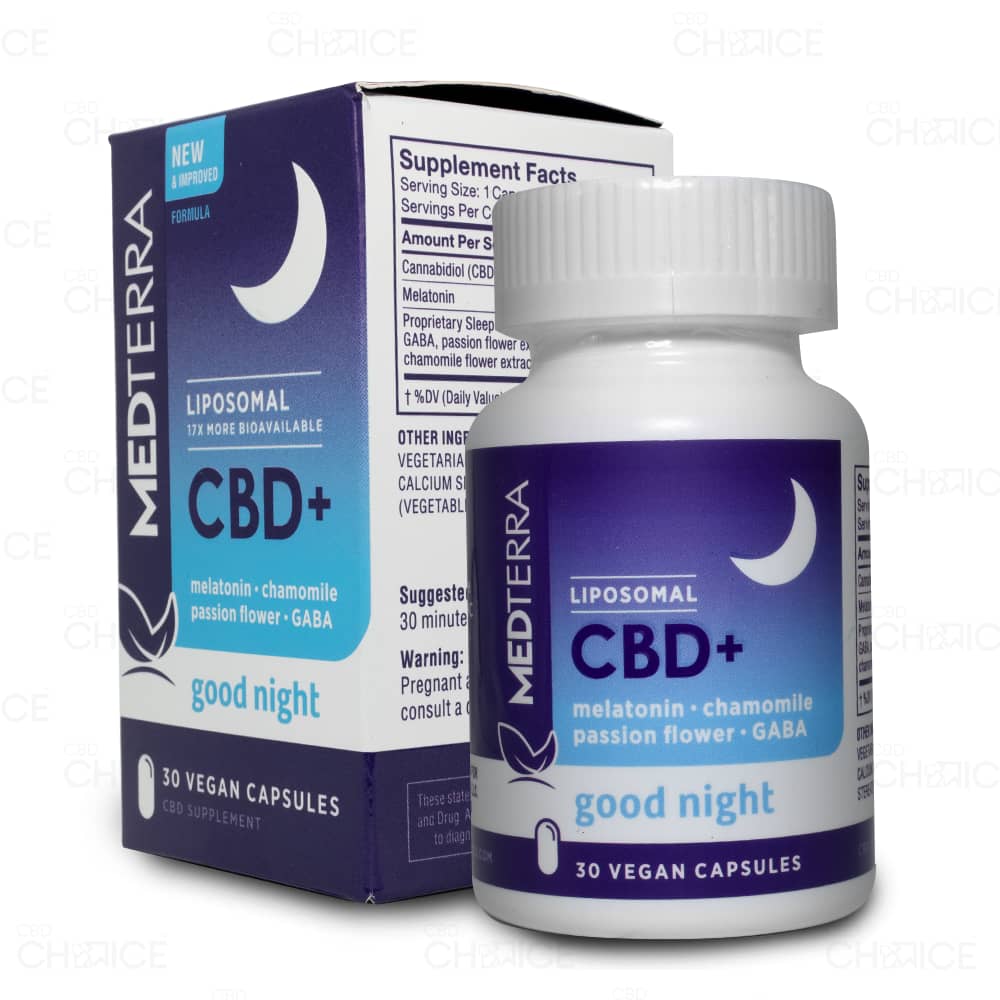 Description
Medterra Liposomal CBD+ Good Night Capsules
Having trouble getting the restful sleep your body needs? You're not alone. Medterra is pioneering the solution to America's insomnia problems with innovative solutions. These Liposomal CBD+ Good Night Capsules may just be their most exciting sleep tool yet.
The CBD you'll find in these capsules is a CBD isolate with an innovative twist. Medterra has developed a patented, proprietary form of "liposomal CBD", which dramatically increases the absorption rate and bioavailability of your CBD dose. That means that you'll feel the effects of these capsules significantly faster and each mg of your dose will do more to help address your symptoms!
But the sleepy goodness doesn't end there. Medterra has packed these capsules to the brim with nature's most soothing natural compounds. The star of the show is the 3mg of melatonin found in each capsule, the body's sleep-inducing hormone. From there, the host of supporting characters brings a soothing touch that makes these a truly impressive tool; with GABA, Chamomile, Passionflower, and more, these capsules boast everything the body needs to get your eyes heavy and your mind ready for a night of blissful sleep.
And as always here at CBD Choice, know that we stock only the best, laboratory-proven products on the market. Each batch of these Liposomal CBD+ Good Night Capsules is regularly sent out for independent testing at America's most reputable labs. These tests verify the purity and potency of Medterra's Nighttime Capsules and ensures that the product you'll receive is safe and free from all harmful contaminants.
Don't settle for a night of tossing and turning. Get the sleep of your CBD dreams with the help of Medterra's Liposomal CBD+ Good Night Capsules.
Ingredients
Cannabidiol

Melatonin

GABA

Passion flower extract

Chamomile flower extract

Calcium carbonate

Cellulose

Water

Calcium silicate

Magnesium stearate